GUIDE-4 was released on 10/27/22 and this article equally applies to GUIDE-4 capabilities
Thenaudio is proud to introduce GUIDE-3, a smart three-port AV switch with up to 48Gbps / FRL6 switching capability and CEC control support for extra convenience.
GUIDE-3 is engineered in a completely new way to support various audio, video, and encryption standards. In a typical AV product, the incoming signal is first decoded and then re-encoded inside an increasingly complex IC. This is generally done for multiple reasons that have to do with needing to establish a unique video path for each input signal. Since standards keep changing these methods will only work for a short period of time until a new encryption version or faster data rates are introduced. This signal decoding and re-encoding is an extremely demanding process and generally limited to 40Gbps / FRL5 for the best of the best products at the moment.
We decided to look for other ways to be completely transparent to the contents of the input signal using the fastest data rates of 48Gbps FRL6 while still allowing the much-needed CEC control support. Each input port of GUIDE-3 is equipped with a unique way to process the information exchange between the connected source and the TV in runtime while the audio and video signal is flowing untouched with perfect pass-through quality.
These innovations allow GUIDE-3 to support any HDMI video signaling all the way to the latest standards found from the 2.1 specification. GUIDE-3 can support 4k120 10/12bit HDR, 8k60, and any other format up to 48Gbps while including features such as VRR for the best gaming experience. For audio support, there are no limitations, and all standardized audio formats such as all flavors of Dolby Atmos / DTS:X / PCM 7.1 are supported including all standard sample rates like 48kHz to 192kHz.
GUIDE-3 is also capable to support CEC control. CEC control is a desired feature to use in modern AV setups since most TVs sold in the past several years offer CEC control simply by using the TV remote controller. TV menus are often engineered to natively support this feature, yet many switches have never added the capability due to the additional complexities to support these commands while making the CEC network reflect the correct parameters.
An example of GUIDE-3 using three connected devices, XBox One X, Blu-Ray player and AppleTV is shown below. Each source is connected to one of the GUIDE-3 inputs and the output is connected to the HDMI 3 of an LG TV. TV will scan the CEC network and display each capable source under HDMI 3 as this is the input where GUIDE-3 is connected. By using the remote it is simple to switch between the inputs. The actual switching happens automatically inside GUIDE-3.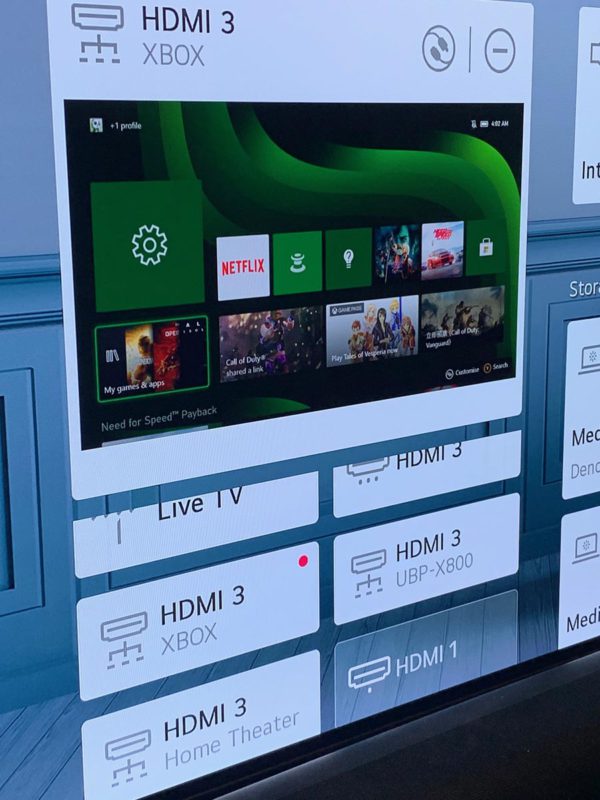 Another way to start watching the desired source is to press the menu button on the remote controller for the respective input source. For example, pressing the AppleTV remote controller menu button will issue a string of specific CEC commands which GUIDE-3 will process accordingly to make the channel change.
There are other ways to perform channel switching with GUIDE-3. In case CEC control is not available, it is possible to use a simple "+5 switching". There is a rudimentary way that HDMI sources use when informing their presence when connected to a sink device. They do it by showing a fixed voltage level that can be detected by the connecting device. Whenever such voltage is detected GUIDE-3 will switch to this channel if the relevant feature is enabled using the DIP switches on the side of GUIDE-3.
In case GUIDE-3 is installed within a system that has system controllers then it is possible to use IR control for channel selection. The IR hex codes are available in the download section.
For use cases without an IR system controller, there are special additional IR commands that GUIDE-3 can respond to. This means it is possible to use an already existing remote controller, say, from an AVR to do the switching. Such support is generally ongoing and will be added depending on the number of requests for specific models.
Finally, there is also a manual push-button that cycles through the inputs in case no automation is desired.