Thenaudio is proud to introduce SHARC-V2, a smart eARC processor with 8K / FRL-6 / 48Gbps dual-port input switch with CEC control and advanced audio processing circuitry.
The following three key areas have been addressed in SHARC-V2:
INPUT PORTS: Added two FRL-6, 48Gbps input ports with a smart CEC control zone.
CEC ZONE 2: Improved second CEC zone used for the connected audio system to further increase compatibility
ANALOG OUTPUT: Improved analog output quality.
Each point has been extensively discussed with customers over the past year and it has helped us to target efforts. For details, we have listed below these three points and highlighted them in more detail.
INPUT PORTS:
SHARC-V2 now has two input ports that are capable of handling HDMI2.1 features. Each port supports FRL6 / 48Gbps video formats to effectively cover every video format under the HDMI 2.1 specification. The ports are forwarding audio and video to the TV/projector and support any level of encryption or video signaling as long as it comes from an HDMI source. The bandwidth of FRL6 is very high and therefore the performance is limited by the choice of the cables. Only the best quality cables should be used for 48Gbps. Of course, any other video format is also supported such as 4K, 1080p and ports can be mixed with FRL and non-FRL signals at will.
SHARC-V2 inputs support pass-through of any audio format that can be sent over HDMI. This covers all flavors of lossless and lossy Dolby Atmos, TrueHD, DTS:X, 7.1 PCM and so on. SHARC-V2 eARC processor side also supports every one of these formats and can convert them and send them to the connected audio system. However, SHARC-V2 does not itself extract audio formats from the input ports but utilizes the eARC channel for audio. It means that TV ultimately dictates which formats can be supported by the customer system.
We decided to have two input ports instead of more ports as a tradeoff to keep the overall cost lower. There are only a limited number of sources that send FRL-5/6 video formats and the main feedback suggests that a user will have either two game consoles or a PC and a single game console. These both can then connect to SHARC-V2. In case more inputs are needed, we offer GUIDE-3, a smart three-port AVR switch to add even more FRL-6/48Gbps ports and can be used together with SHARC-V2.
The input selection is handled by CEC from the TV side or the source side using their respective remote controllers. We advocate the use of CEC for channel switching in SHARC-V2 and simplified the design by removing IR and any manual buttons. Since SHARC-V2 is always connected to an eARC capable TV it means the TV is CEC capable and can therefore communicate properly with SHARC-V2. Further, the sources connecting to the input ports of SHARC-V2 should be CEC capable as well to work properly. Below is an example of how the input ports appear on the TV input selector. You can see how XBOX and PS5 appear under the HDMI2 where SHARC-V2 is connected.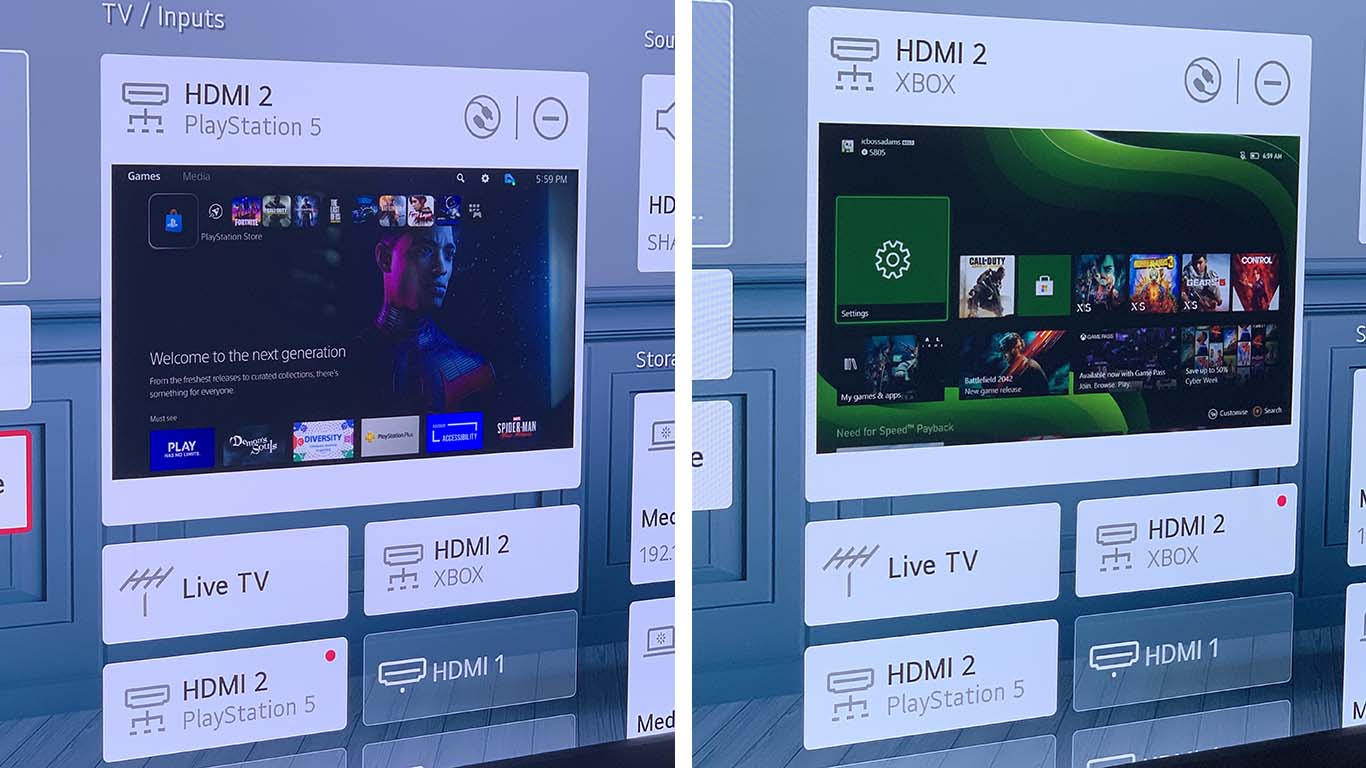 #2: CEC ZONE for AUDIO SYSTEM
One of the unique features of SHARC is the ability to control the volume and the power state of the connected audio system. It means you can control the sound system connected to the SHARC AVR port with the TV remote controller.
There is a dedicated improved CEC zone in SHARC-V2 that sends commands to the connected AVR or soundbar. The improvements in SHARC-V2 allow the use of the source remote controller as well. For example, watching a show using AppleTV and using the AppleTV remote controller volume up and down now controls the volume level of the connected audio system. The same is true for Roku remote controller or any other source device that implements sending CEC volume control commands. These devices can either be connected to SHARC-V2 or to any of the remaining TV inputs.
#3: ANALOG OUTPUT STAGE
It turns out the headphones jack is used much more often than the RCA line-level output, and for this reason we removed the RCA jack and in turn optimized the analog performance of the headphones output.
SHARC-V2 allows the volume level of the headphones output to be controlled with the TV remote controller or the source remote controller for maximum convenience.
We wanted to maximize the audio quality performance while still not affecting the cost too much. We are trying to walk the line between those who want the best analog quality and those who never use analog outputs. There is a great difference in the prices of DACs for generic use and for ultimate conversion quality. Increasing dynamic range and reducing distortion beyond certain points exponentially increase the cost. As a suitable tradeoff where we took into account availability, cost, quality, robustness and so on we chose to use the PCM512x series DAC from TI and a low-noise amplifier to drive the headphones output. The dynamic range is over 100dB which ensures a great listening experience. The analog output easily supports HD AUDIO since the DAC natively converts up to 384kHz sample rates. Most HD AUDIO is 96kHz but some sources can output even at 192kHz 24bit.
The other issue frequently encountered within the past year in our experience is that some TVs do not process PCM pass-through correctly. We have identified many of these cases and have created run-time fixes in our code to compensate for this. We are proud to confirm that SHARC-V2 supports up to 7.1 192kHz 24bit for the digital HDMI output and up to stereo 192kHz 24bit for the analog side.
To order, follow the link here: SHARC-V2 eARC Audio Processor.